Welcome to my gallery/skin shop.
Download all of the skins here.
Read my skinning tutorial here.
Have a skin you requested? Check here.
Please read the rules before requesting a skin. Otherwise, I won't make you a skin.
It takes like a minute to read it.

My style goes for anime cel-shaded characters. If you like my style, feel free to request a skin. This was originally just a gallery shop, but overtime I've decided to do some requests. I'll make you custom characters or even characters from your favorite anime show!
I'm a huge anime nerd and I'm familiar with many different kinds of anime. Even if I haven't watched a series, I'm most likely familiar with it to some degree. For example, I've seen less popular series, such as Toradora!, as well as mainstream anime, like Death Note. I can even make anime video game characters or whatever your favorite anime character is from.
I like quality over quantity. I have a handful of skins now. Be sure to check up on the skins for updates to see if I've added more details or fixed them.
I'm still improving and learning how to be a better minecraft skin artist. Some of my newer skins may look better than my old ones.
I can practically make almost any anime character... as long as they don't have absurdly long hair, wings, hybrid parts, claws, horns, tails, capes, etc. The skin has to be
symmetrical
!
My current skin: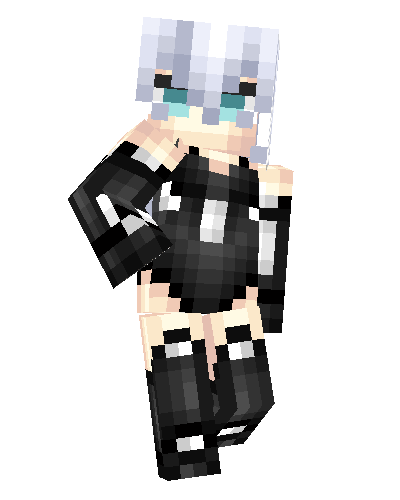 To any other artists:
I'm 100% original. I don't use any other artists' work, or modify any skins. The only things that aren't original are the majority of the anime characters I create due to requests--or out of fun--such as characters from Naruto, Dragon Ball Z, Bleach, etc. Unless you consider yourself a top artist, I wouldn't even give a second thought about copying your, or other artists', skins. If we do somehow manage to make almost identical skins, then ask yourself... has it been made before? Is it simply an elf, magician or warrior skin? I'll always be able to justify exactly how I came up with the skin: whether it is inspired by something, or if I just thought it up myself.

Thanks for reading. c:
✓

Completed 100+ skin requests.
✓
100 subscribers.
✓
200 subscribers.
✓
300 subscribers.
✓
400 subscribers!
✓
20,000 downloads!
RULES AND AGREEMENTS:
Check if the shop is OPEN or CLOSED.
First come first served. I don't skip requests.
I will only create anime/cartoon themed characters using my style (look at my example pictures). That means no "realism" or monsters.
Do not request a skin from me if you have already requested the same skin in another artist's thread. I don't want to spend hours making a skin to see that you just got a skin made by another person.
No memes.
I'll post the skins on planetminecraft. If you want a personal skin, just ask for it via PM.
Try to request reasonable and do-able skins. Basically, anything that doesn't have wings, horns, missing limbs, capes, etc. unless, they're tiny or you want me to omit them.
Do not request multiple skins. If your friend wants a skin, tell them to request it.
Please reply and check this thread if I completed your skin. The most important rule. I don't like making skins for people who don't come back to get it.
If you want some changes on your skin, don't be afraid to ask. It's your skin after all.
Post reference pictures so I know what you want or try to be descriptive if there are no pictures.
The more requests I have, the longer it will take me to get them finished so be patient.
Don't rush me or I'll skip your request. There's really no ETA on the skins, but I normally get them done in about a week on average.
Note: You can edit or do whatever you want with the skin. Just don't upload my skins without proper credits, thanks.