My idea is simple...
Edible cacti.
Cactus in real life have water stored in them, and most of them are edible. That means that in Minecraft we could make it so you could craft edible cactus. This would make cactus farming more useful.
So basically to craft edible cacti you would have to craft a sword and a cactus together, and you would get tiny bits of edible cactus that could be stacked.
Now the fact that they can be stacked will also result in them restoring small amounts of health, I propose it healing half of a heart for each edible cacti consumed.
Depending on what type of sword you are using to craft the edible cacti will affect the quantity of cacti received.
Here's some pictures I made to help you better understand how this works.
Wooden swords will give you 2 edible cacti.
Stone swords would give you 6 edible cacti.
Gold swords would give you 16 edible cacti.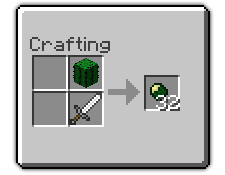 Iron swords would give you 32 edible cacti.
Diamond swords would give you 64 edible cacti.
(You would probably do this if your sword was about to break.)
_______________________________________________________________________________________________
This idea would help optimize the inventory space used to store food, while helping you better survive.
If you support this idea and/or have any other suggestions to help make this idea better, please let me know in a reply below.