Getting started
We have noticed that a few players are a bit lost, so we will explain how to get started and get the most out of your experience on HollowSeas:Civs!
When you join, you will spawn at our spawn city. This spawn city has a few shops, however, nothing really important yet. What you want to do to get started is to get out of spawn by warping to one of the 3 biomes avalible. This will get you outside spawn protection!
Next, when you have found your spot to settle down, open up that book that you got at the start! You will always spawn with it! (Don't worry if you lost it, just relog to get it back!)
(Optional) Feel free to check out the guide the developer of Civs provided us! This will provide you an overview of what Civs is about, however, is not necessary!
Once you have opened up the book, a GUI will appear. You can look around, however, the important part is the blueprints. You can get your shelter there! Place it down and congrats, you are closer to becoming a town!
Checking Your Shelter: Checking on what your shelter is, is a big deal in Civs, as well, gives you lots of information on what it does! Open your book and Click Shelter (Wooden Plank). This part of the GUI allows you to add members, views region type, and destroy the shelter. Let's go to View Region Type.
Lots of info!!! Let's break it down, shall we? The hoppers are your intakes while the emerald blocks are your output. Let's say it as the intake is 4 bread for $5.12. If you put that 4 bread into the shelter chest, you will get $5.12! Pretty simple! To see the input, simply click on the hopper!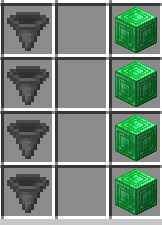 If your building requires any blocks near it, you can see through the iron pickaxe on top, showing you the required blocks! To go back, simply click the Redstone block!
Quick Q&A:
My Shelter broke and now I don't have one! Don't worry! Just relog and it will give you a new one in your blueprints!
How do I add players? Civ Book -> Shelter -> Add Members (Note! They have to be online!)
I lost my book! Relog and you shall receive a new book!
Need Further help? Don't worry! We will be there to help you out as soon as we can!
A rough video: