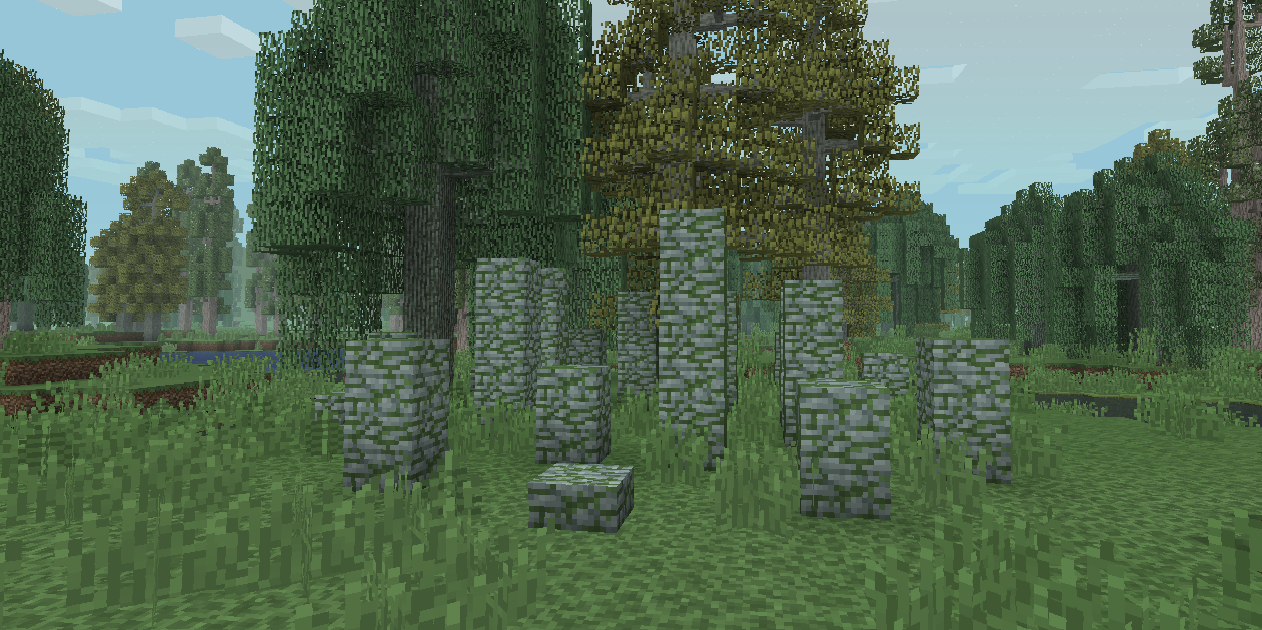 Hello everyone!
A long time ago there was no news from the Misty World, but this does not mean that the development was abandoned. All this long time I painstakingly put in place new elements, line by line, pixel by pixel. Finally it's time to introduce you another update!
Update of Life and Death.
I will not write any introductory words, the list of the changes will say everything for me. But I will make a reservation that this update affected only the upper areas. So!
Common:
Added version control from forge
Added in-game mod settings from forge
A search box has been added to the creative tab. If desired, you can disable it
The fog damage system has been completely rewritten
Two effects that can be obtained in fog are added: Chemical Pollution and Intoxication
Improved fog rendering: now it can be lit with a torch and falling shadows fall on it
Two skills added: Taming and Cutting. The system of loot and taming is configured for them, so at first it will be hard
Effects and skills can be seen by pressing a special button, the default is "I"
Added some ambient sounds and the amazing track "Echolocation" by Redgalaxysw, which you can hear in the dark depths of the Misty World
The advancements branch has lengthened slightly
Generation:
I dug caves and canyons for you. Now the area has become more diverse
Rubber tree added
Small structures added: wells, old foundations, altars, tombs
Under the fog you can now find single-block acid pockets. Be careful
Added several plants: Desert Cotton, Nightberry, Tinder Fungus
Sulfur and Saltpeter ore added
Blocks and Items:
Respirators are divided into two types: closed and open. Closed respirators interfere with food intake
Added Foggy Stone Furnace and Niobium Chest
Ceramic Urns and Old Paintings added
Added seeds of all available trees. Some of them are edible. Can be planted in a Flower Pot
Added Latex Pot
Many new materials added: Remains, Tallow, Soap, Latex and Rubber
Protective Suit added. Can be combined with regular armor
Added Gas Analyzer
Glass Container added
Added a lot of animal food
Added a lot of new mobs:
Mossling
Forest Runner
Momo
Barvog
Prickler
Caravan
Wulder
Horb
Sniff
Sloth
Monk
Galaga
Halter
Brachiodon
Grave Bug
Forest Spider
Swamp Crab
Snow Flea
Tropic Woodlouse
Cyclops
Desert Fish
Mobs vary by gender. The process of bearing takes a certain time.
In general, a huge number of minor changes have been made...
Old bugs fixed, new bugs added
Happy survival to everyone! I hope this update helps you not to get bored during this difficult time of self-isolation
!!! SPOILERS !!!
Further I will tell more detailed information.
Here is a list of mobs indicating the required level of Taming, what to tame and some other parameters:
Mossling (II, Pink and Marsh mushrooms, can be sheared and saddled)
Forest Runner (II, Forest Deceiver sapling, can be milked)
Momo (I, Cup mushroom, can be saddled)
Barvog (III, Sand and Tan mushrooms, can be saddled)
Prickler (II, Purple mushroom)
Caravan (II, Sand and Tan mushrooms, can be milked)
Wulder (III, Snow Tree sapling, can be sheared, milked and saddled)
Horb (II, Red and Orange mushrooms)
Snuff (III, Purple mushroom, drops Tallow, according to the idea it should help to look for mycelium, but this has not yet been implemented)
Sloth (III, saplings of the Swampy Poplar and the Weeping Tree, drops Tallow)
Monk (VI, any meat, drops Tallow, can be saddled)
Galaga (V, any meat, can be saddled)
Halter (IV, any meat)
Brachiodon (IV, Black and Spotted mushrooms, drops Tallow)
Breeding mobs, like many of the above actions, are available only after taming them, so I recommend not to neglect this skill!
In addition, mobs have short-term memory. If you hit or killed one, other mobs can temporarily change their attitude towards you, even if they were tamed.
I also recommend not to go past the old foundations. There you can find a lot of interesting things, for example, local detoxicants.
Speaking of intoxication, this will help you in the fight against it: raw Silver and Gold mushrooms, Tinder Fungus, Stone Tree seeds, Nightberry (an extremely rare berry that can be picked only at night in swamps), Swim Bladder of Desert Fish that can be found in clay lakes of the savanna.
I also want to talk a little about the urns. They can be painted independently in two approaches. At the same time, in the second approach, you can add additional ingredients, such as: mulch, paper, stick, feather, string, bone or saltpeter, to get a specific pattern.
I almost forgot! The new furnace can be automated. This can be achieved using two of its features: the outgoing signal of the furnace corresponds to the value of its heating. In this case, the furnace automatically closes if its temperature is greater than or equal to the incoming signal of red stone.