TheAwesomeminer2
Join Date:

12/1/2017

Posts:

1

Member Details
TheAwesomeMiner2's Minecraft Website/Portal Store
Hey guys, I have been doing freelance web development and graphic design for the past 4 years and today I decided to branch off onto the Minecraft Forums. If you like the product please donate, I like keeping my products free for education and for people who don't have money (or at a very low price)
also please give credit if you downloaded an item for free. More free templates are coming soon.
Custom website requests:
I am willing to take requests in the comment section below or on direct message. Prices are fairly cheap and for something like a custom portal page, it will only be around $10-15 (USD) atm.
If you are requesting me to make a custom site please include design examples you like if possible as it helps me get a better understanding of what you want design wise and generally I can give you a quote based on how large the site is and how long it takes me to complete. If you wish I can also the host website and setup the site with a domain pointing to the site + your server if required so players can connect using play.youdomain.com ect.
Templates/Examples:
For customers who have a low budget, I also have some premade website templates for Minecraft at around $3.50 USD. All websites have an easy step by step instruction page on how to install and how to edit (no coding required).
Below consists of some templates I have made which are available on the links below them and some are just random project I have done and are sadly not available at the current time for purchase but I'm sure I could reconsider if asked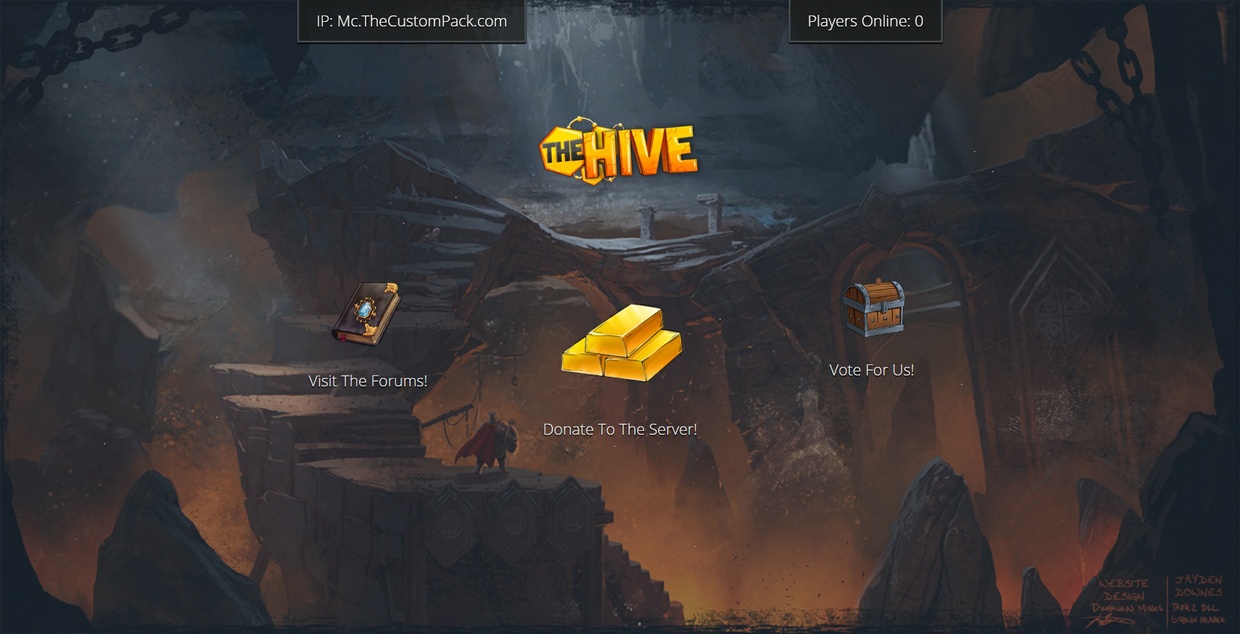 Minecraft Server Portal / Website ($3.80 USD)
Store Page: https://sellfy.com/p/vZ3H/
Fast, Reliable and Responsive Minecraft Portal Page Template, Easy setup, includes a config file for easy edit (no coding knowledge required).
Includes the following:
○ Live player count
○ Responsive layout
○ Highly customisable
○ Easy edit configuration file
○ Copyright footer
*please note the logo in no way belongs to me and is used as a demo for the site and is not included in the product
-------------------------------------------------------------------------------------------- HTML Error Page (Dark) Responsive (Free)
Fast, reliable and responsive HTML and CSS error page.
Light and Dark version available.
Store Page:
○ https://sellfy.com/p/JXii/ (Light Version) [FREE]
○ https://sellfy.com/p/vpx0/ (Dark version) [FREE]
Includes the following:
○ Responsive layout
○ Highly customisable
○ Title changes gradients using an image file (See Live Demo)
Feel free to contact me for custom requests or instructions on how to install/edit this webpage.
(Text file instructions coming soon)
--------------------------------------------------------------------------------------------
New Personal Website (Not for Sale ATM)
My own personal website (jaydendownes.info), which is literally a hub page for all my projects etc, most of my other projects are not open to public atm.
Side note:
A lot of the templates above are very simple to make and aren't in any way complicated websites to make as I previously haven't had the time or purpose to make huge Minecraft websites, I also had a few more demos I would have liked to put here of clients work but I haven't yet been given the ok to show their sites as examples
I also previously opened my own OP Prison server for 1.8 and would appreciate if you guys came on and checked it out
http://minecraft-mp.com/server-s181240
Request Format:
Name:

How you wish to be contacted (Email, Direct Message etc):
Examples of work you like (Pictures or links):
The price you are willing to pay (USD):
The form above can be sent by direct message if confidentiality is wanted