BungBo
Newly Spawned
Location:

SoCal

Join Date:

10/5/2012

Posts:

1

Minecraft:

BungBo

Member Details
[1.3.2] Realms of the Fallen - SURVIVAL PVP [24/7] [40 SLOTS] [FAMILY FRIENDLY] [ECONOMY] [TOWNY] [HELPFUL STAFF]

Welcome to Realms of the Fallen. We are proud to announce the Re-grand opening of our Survival, PVP, Towny server. We are a motley crew of refugees from other servers in the long tradition of setting out and exploring new worlds and oppurtunites. The staff of the server have worked hard for a few days, and are finally ready to release this puppy into the Wilderness of Survival Servers. Lol. Come and check out the amazing spawn built by I forget who, but they know who they are. We encourage new players to join and ask questions if you need help. You might not get the answer you needed or wanted, but you will probably bust a gut laughing at our attempts to help you. You will find that you will be able to progress quickly in the World of the Fallen because, hey, it's new. What's not cool about that? So if you ever wanted to get in on the ground floor of something fun and potentially Epic, drop on by and try to Survive, or get beaten to death with Cake. Don't laugh. It happened to me. Lol.

We hope to see you soon. From all of us over at Realms of the Fallen, we hope you have a wonderful day. Oh, and be sure to bring your patience and a good sense of humor.
Can You Say MoooooShroooom?
Having a swim at the old Jungle Temple!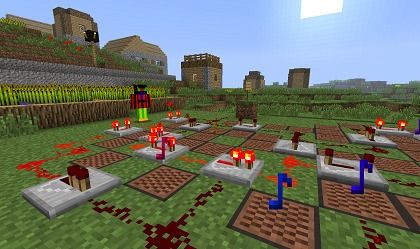 We march to a different redstone drum.
to see more pics from around the server.
Last edited by
BungBo
: Oct 16, 2012