creepercraft97T3
Coal Miner
Location:

Hopefully in Finland soon

Join Date:

12/21/2015

Posts:

134

Location:

USA for 2 more years

Minecraft:

creepercraft97T3

Xbox:

creepercraft973

PSN:

none

Nintendo:

none

Member Details
I was just sitting in study hall when something came to me, and I got to work. It was an idea of a screenshot of a screenshot of a screenshot of a screenshot... I call it the infinite screenshot. I decided to take a screenshot of my screensaver and I went from there. I started at 1:00 and one hour later, we come to now. I put the screenshot below.
Although, it still isn't... truly... infinite... because at the center, there is still a remnant of my screensaver. It may be extremely blurry (because it was enlargened by literally a few hundred times) and only a few pixels, but I also uploaded it anyways down below. The remnant is where the blackness stops.
Sooooo... what do you think? Should I continue?
Here is an infinite screenshot for all your infinity needs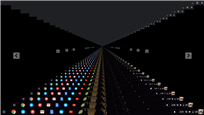 But of course, its not truly infinite...