BC_Programming
Curse Premium
Enderman Ender
Join Date:

1/14/2011

Posts:

8,816

Minecraft:

BC_Programming

Member Details
Windows Update get's a lot of flak. To be honest my only problem is that it forces an update and defaults to do so completely automatically. It does also occasionally have problems.
Anyway, this isn't really about Windows Update. When I mentioned my Windows Update issues (minor really, just don't want it to reboot without my consent and close everything I'm working on) they effectively said that Linux Mint fixes every single problem with Windows Update.
Now, being that I had used Mint before and I was well aware that it fixed absolutely nothing, I decided to fire up Mint 16, Petra, in a fresh VM install. After installation, I ran an Update.
Total size was around 200MB of updates. Fairly large, but hey, if it works, no problem.
So I left it updating and went on about my business in my host. I forgot about the VM until the next day, when I switched to it, and was greeted by this: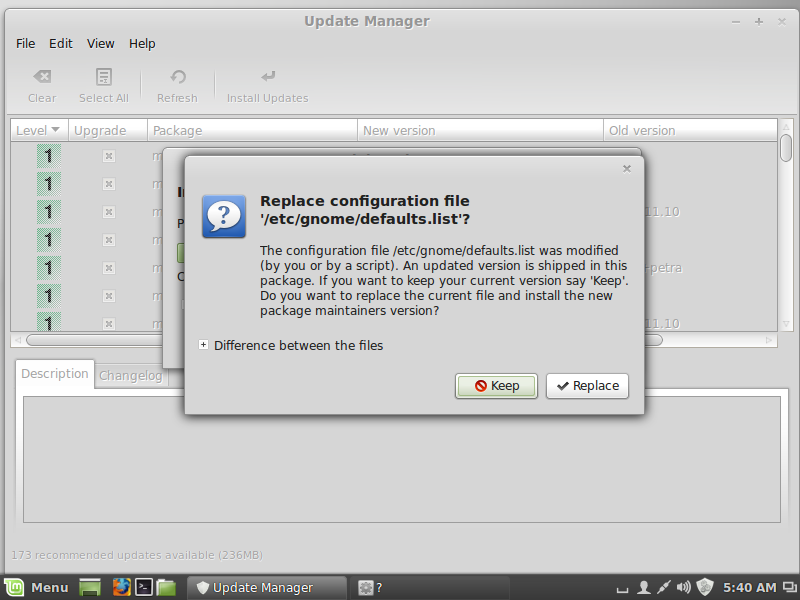 In other words, this is not "automatic" by any metric at all. It stopped probably within a few minutes to display this prompt.
What is it asking? It's asking me if I want to replace defaults.list. Should I know what this is or what it does? Why is it asking me? It was a fresh install, so is it asking because there can be side effects from replacing a default? Did it detect changes to that file? Why is it asking for that file, and not any of the others?
I expanded the window to see the differences, which was helpful in that it told me absolutely nothing except displaying a bunch of line noise garbage that might have been meaningful if I either knew or cared what defaults.list is supposed to do.
the best part is that once I expanded it, I could not shrink it; pressing the - to shrink it hid the textbox displaying differences, but left the dialog at it's expanded size.
The problem being that now I could not press either of the buttons. So I pressed enter, on the idea that the default had been sensibly chosen.
The default was in fact to keep the current file. So now my defaults.list file is out of date. that VM works fine however the issue here is that the System asked me a
stupid question
. Even after I learned what the defaults.list file was, I am still puzzled by why it would ask that question. Whomever designed it was following the motto "when it doubt, ask the user". Ignoring the fact that the user may not be equipped to answer that question.