Legoman99573
Iron Miner
Location:

Tennessee, USA

Join Date:

1/20/2014

Posts:

272

Location:

Tennessee, USA

Minecraft:

Legoman99573

Xbox:

Legoman99573

Discord:

Legoman99573#0069

Member Details
The item works like actual redstone, but it can be placed on walls and celings. The reason is that I would suggest this is you can make contraptions like a lighthouse, but the redstone doesn't have to be placed on the ground and build stairs to go up to the top. It could make more contraptions easier like elevators, and other complicated contraptions. It can make new contraptions like 15x15 pistons activated without making stairs. If you dont understand what i mean, i am saying we need new contraptions and this will make more new ideas never thought of before and normal contraptions will be the same.
I still have no idea what is it you want to suggest.

If I have to guess, are you trying to suggest for a way to place a light source on the ceiling?

If so, we already have redstone lamp/glowstone,
it is redstone source on the celing and walls like you can go over 5 blocks on the wall and redstone will still work like placing redstone dust on the wall and the celing to make 1 new source like if you had a light switch(lever) and you want to activate the lights(redstone Lamp), you could place it on the wall like this.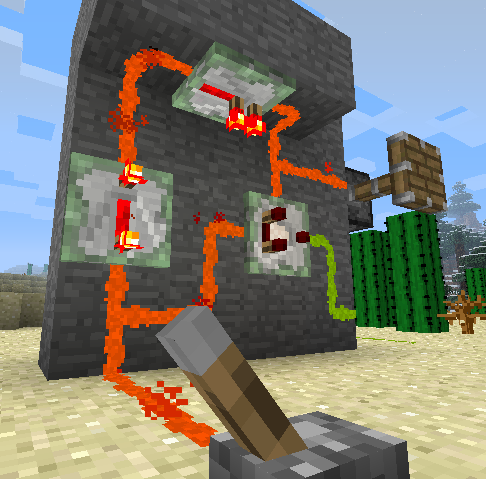 or
and yes this was from an old mod, but i think this would make the contraptions easier than having redstone torches to get to point B and downloading a mod if you are unsecure about modifying without resetting your game.
Coming Soon Maps:
The School's Curse - Click Here - Snapshot Release [Edit]11/15/14 due to bug issues

Sucessful Suggestions:
Redstone, Redstone Repeaters, Redstone comparators, Redstone Torches (Celing only) on Walls and Celing