Pegasus_Epsilon
Tree Puncher
Location:

The Internet

Join Date:

3/4/2011

Posts:

12

Location:

murkfall.net:44446

Minecraft:

Pegasus_Epsilon

Member Details
For too long the tools have suffered and broken in the hands of careless miners. No longer.
Damage Gems adds colored gems to your tools that change color when the tool they're attached to reaches a certain number of uses remaining.
over 60 uses left: green gem
60-31 uses left: yellow gem
30-11 uses left: orange gem
10 or less uses left: red gem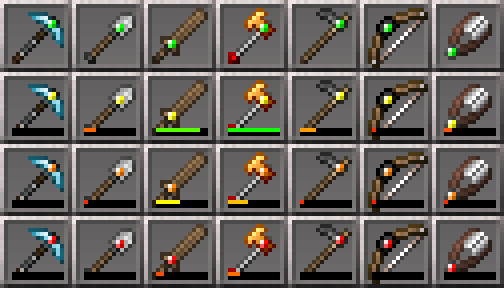 Currently supported tools are pickaxes, shovels, swords, axes, and hoes made of wood, stone, iron, diamond, or gold, plus bows and shears.
Mod support is not planned, but if anyone creates a mod add-on, I'll happily link it here.
Works just fine all the way from 1.7.10 (tested, but Minecraft will complain, may work in earlier versions, but that's not tested) to the current snapshot.
If anyone has a trick to make older versions of Minecraft NOT complain, let me know.
An extra hilarious side-effect is that you can easily see the durability of tools in use by other players.
Freak them out by warning them when their tools are about to break.
Version 1.3 now provides a proper bow draw animation.
Since the Curseforge project creation page seems to be broken, here's a direct link to the pack instead.