SOLRUK
Tree Puncher
Join Date:

12/28/2012

Posts:

25

Minecraft:

SOLRUK

Member Details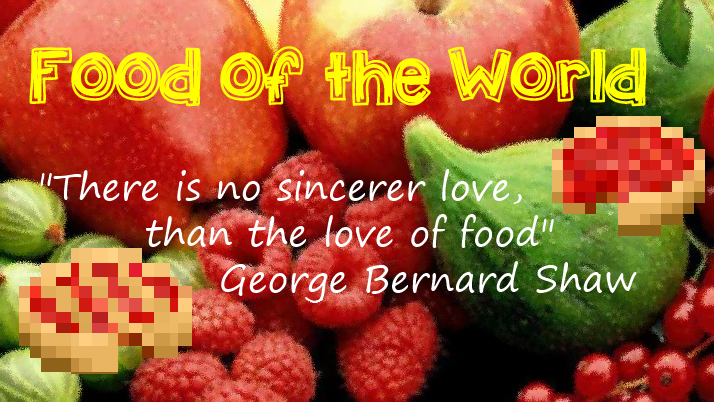 Adding Taste to Minecraft!
This mod adds food items to give you an incredible culinary experience
Note:
The idea for this mod originated after the code was written. It was originally intended to be primarily about throw-able pies. Keep this in mind as of now that is the only feature in the mod. Just remember this mod has a lot left to do.


Items:
Apple Pie

Pecan Pie

Peach Pie

Strawberry Pie


Recipes:
Apple Pie

In-game "Cook Book" which reveals recipes after base ingredients have been discovered.
100+ different consumable items.
More efficient pies.
Eating the pies by eating them like a cake.


0.0.1 for Minecraft 1.7.2

No videos yet. If you have a video about the mod and would like to have it showcased on this page, feel free
to reply on this thread with it or
a link to it.

Support this mod by setting this banner as your signature.

Just place this in your signature box when editing your profile:


If you want Food of the World in a mod pack you need to meet these requirements:
1. Your mod pack needs a link back to this page.
2. No money can be made off the pack or the mod.
3. You cannot make any claim that you made any part of the mod, and credit must be given to the author (Solruk).
4. If you are ever asked to remove the mod by me, you are to do so without question.
Feel free to look through the source code:
https://github.com/Solruk/Food-of-the-World

This mod (plugin, a patch to Minecraft source, henceforth "Mod" or "The Mod"), by the terms of
http://www.minecraft.net/copyright.jsp
is sole property of the Mod author (Solruk, henceforth "Owner" or "The Owner"). By default it may only be distributed on minecraftforums.net, by the Owner. It may only be mirrored or reposted with advance written permission of the Owner. URL shorteners or other attempts to make money off The Owner's Mod are strictly forbidden without advance written permission
Long Version:
TERMS AND CONDITIONS
0. USED TERMS
MOD - modification, plugin, a piece of software that interfaces with the Minecraft client to extend, add, change or remove original capabilities.
MOJANG - Mojang AB
OWNER - , Original author(s) of the MOD. Under the copyright terms accepted when purchasing Minecraft (
http://www.minecraft.net/copyright.jsp
) the OWNER has full rights over their MOD despite use of MOJANG code.
USER - End user of the mod, person installing the mod.
1. LIABILITY
THIS MOD IS PROVIDED 'AS IS' WITH NO WARRANTIES, IMPLIED OR OTHERWISE. THE OWNER OF THIS MOD TAKES NO RESPONSIBILITY FOR ANY DAMAGES INCURRED FROM THE USE OF THIS MOD. THIS MOD ALTERS FUNDAMENTAL PARTS OF THE MINECRAFT GAME, PARTS OF MINECRAFT MAY NOT WORK WITH THIS MOD INSTALLED. ALL DAMAGES CAUSED FROM THE USE OR MISUSE OF THIS MOD FALL ON THE USER.
2. USE
Use of this MOD to be installed, manually or automatically, is given to the USER without restriction.
3. REDISTRIBUTION
This MOD may only be distributed where uploaded, mirrored, or otherwise linked to by the OWNER solely. All mirrors of this mod must have advance written permission from the OWNER. ANY attempts to make money off of this MOD (selling, selling modified versions, adfly, sharecash, etc.) are STRICTLY FORBIDDEN, and the OWNER may claim damages or take other action to rectify the situation.
4. DERIVATIVE WORKS/MODIFICATION
This mod is provided freely and may be decompiled and modified for private use, either with a decompiler or a bytecode editor. Public distribution of modified versions of this MOD require advance written permission of the OWNER and may be subject to certain terms.
Last edited by
SOLRUK
: Jul 6, 2014