Masterminer1012
Iron Miner
Location:

Turn Around

Join Date:

11/16/2011

Posts:

293

Member Details
Ok So this is the official page for the Minecraft Infamous Mod requested by Sweek-chan. He is the owner of this mod and I am the Lead coder. This mod will feature a new inventory,lightning based abilities,new blocks and a new HUD.
New Changes:
As you can see I have a poll. I am taking fully into account what you want. The base stuff was what we wanted but now it's you.So by popular demand we will be adding more mobs before anything else. I have to talk to my team but I'd like this to include a more humanlike NPC that looks more human and acts more human. For example if I shoot one with electricity it'll run like hell. Also there will be a military related mod like in the game. Also more. I don't want to give away too much. Also you say that you will play this so this mod will continue for a while and most likely update with coming versions of MC. If you have no coding or texturing expierience
You can support us by using the banner. Please take it as your sig and spread the word about this mod. Let's try for at least 100k views like some mods have. Also we will robably release a pre release version of the mod featuring mainly the new blocks and some powers.
Lightning effects:
1 Bolt: Shoots a bolt of lightning, half arrow damage but no gravity affect
2 Glide: Electricity slows your fall, negating fall damage
3 Grenade(4): Throws a lightning bomb that explodes like TNT when it lands. Careful!
4 Shield: Slows you down to sneak speed, blocks projectiles
5 Heal(2): Each use heals one heart of health
6 Push(2): Pushes enemies back, causes them to slow down for a few seconds
7 Electrify(4): Makes a lightning block appear that damages mobs on touch
8 Storm(5): Calls three lightning bolts close by the area you're aiming. Careful!
9 Charge: Refills your energy bar from power sources
Evil Powers
1 Bolt: As good bolt, but can set fire to targeted block or mob
2 Glide: As good glide
3 Cluster(4): Throws three grenades in a spread, each with smaller blast radius
4 Shield: As good shield
5 Drain: When used on passive mob (not monster), heals 1 heart and 2 battery cores
6 Push(2): As good, but can set fires randomly in area of effect
7 Chain(1/sec): Hold to continuously damage every mob in range
8 Storm(5): As good storm
9 Charge: As good charge
This is all the Info on the Mod
Ok I have more info,now I will share it!There will be a new button.You will point the reticule at a mob an energy block or shrub and you will gain EP's (Electric Points) When you use this on mobs they take 3 hearts of damage for every 1 EP.Next up You can hit TAB to switch to another inventory bar which has all the powers in it.Powers will include the drain power,lightning bolt(shot from your hand),lightning strike,lightning bomb and more. There will be 9 for either side(will explain soon). This mod will also feature the Karma System. This mod will eliminate the normal exp system but will add a much better one. Every time you kill a passive mob it will drop a red energy orb that you automatically get.Hostile mobs will drop blue ones,planting flowers will drop blue ones and destroying houses in villages will drop red ones. Blue orbs puts you on the Good side.Red ones put you on the bad side.The powers are different for each side.There will also be special parkour abilities like climbing vertical surfaces and jumping large gaps(like in the game).Finally there will be new mobs with an improved AI system to make your day.If we can get a good scripter we will possibly add a campaign mode too.Keep in mind we need more members. Just post a comment saying you want to join. Give an example of what you have done in the way of texturing,coding,modeling and scripting and we'll go from there.
This is a progress report on the mod.
Energy Blocks-Texture Completed,Coding started
New HUD-Texture Completed,Coding Started
Powers-On Deck
Abilities-On Deck
Mobs-Sometime Soon
Armour-Sometime Soon
Campaign-Far from starting
There is a new pic. The inventory is added.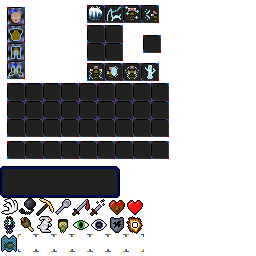 A Sample Application Form to become part of the team
Name: Applicant's name
Position: Name position you'd like to do
Expierience: An Example of other mods you've worked on
Why you want to help: Why exactly you want to work on this mod.
DOWNLOAD
1.Masterminer1012=Coder,texturer,Banners,Public Relations
2. =Vitimin_V=Lead Coder
3. =destroythepony=coder
4. =EverBlox=Lead Texturer
5. =dabest230897=Coder
6. =SkullDaWg13=Texturer
7. =Corshark=Texturer
We currently have enough texturers,and coders,We need a bug tester and mapmaker.
Support this mod with this banner!
[URL=http://www.minecraftforum.net/topic/883481-100infamous-mod-official/#][IMG]http://www5.picturepush.com/photo/a/7196853/640/7196853.jpg[/IMG][/URL]
Or this better one.
[URL=http://www.minecraftforum.net/topic/883481-100infamous-mod-official-wip-recruiting-more-details/][IMG]http://www1.picturepush.com/photo/a/7205279/img/7205279.jpg[/IMG][/URL]
Or this even better one made by WadUpMan(current one)
[center] [url="http://www.minecraftforum.net/topic/883481-"] [img] http://i.imgur.com/F5GuX.png [/img] [/url] [/center] 
Copyrights
This mod is property of the mod owner(s). Minecraft is a copyright of Mojang. This mod may only be used by the Minecraft forums and only on this page. The only time this mod may be used anywhere else is with the owners consent. Anyone who mirrors this page or mirrors the download when one is released will compensate damages via a lawsuit. URL shorteners such as Adf.ly and Ad.craft and any other attempts to make money off of this mod is strictly prohibited and will also be dealt with via a lawsuit.You may showcase this mod on youtube with the permission of the mod owner. copyright 2011