AnDwHaT5
Out of the Water
Join Date:

7/29/2012

Posts:

7

Minecraft:

AnDwHaT5

Member Details

What is this mod? This mod adds many many new things into minecraft. Like... new blocks based on the pokemon games, furniture based on the pokemon games, and you guessed it... features that simply enhance Pixelmon gameplay!
Donate! It will go to things we need and if we have enough to pay the staff.

Our radio has made the update thanks to clienthax our new developer and with that left the door open to brand new features in it!
Battle Music has been implemented in 3,0 release! We need composers to create a few tracks for the music! If you think your good please pm me!

9tuoIklRorw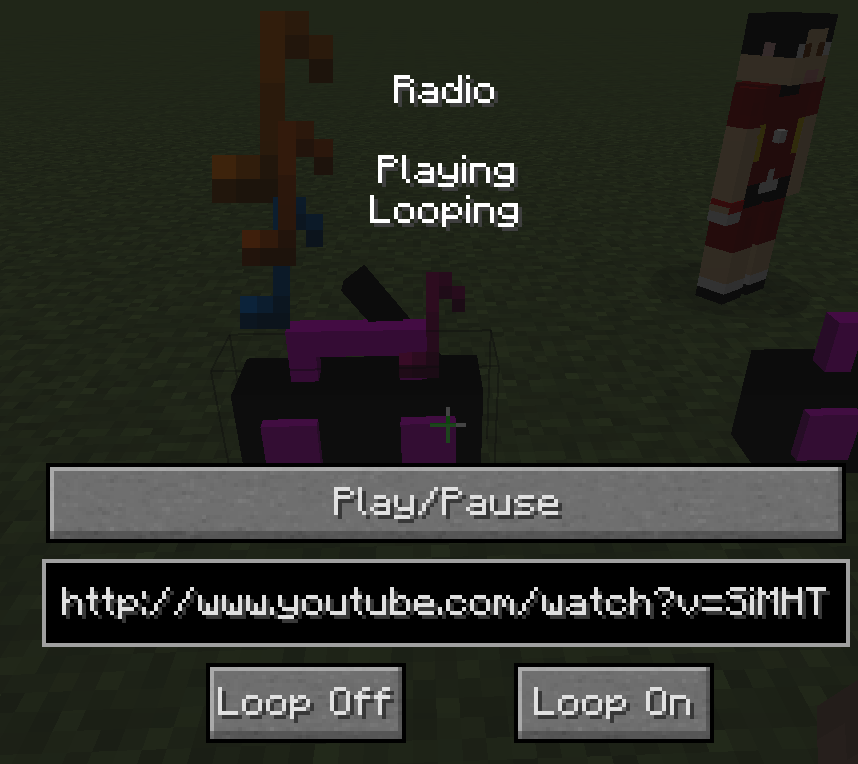 V2.5 is out!
How to install
~~~~~~~~~~~~~~~~~~~~~
Assuming you have forge in already just drop it into the mods folder. If you do not have forge in refer to a youtube video there are many of them.
Photo
Tutorials!
Click to reveal
OjV8SutsEX4
5qKrRqLyW08
zmJDIqqRxOo
Radio feature preview!
ETsM2j4TfWM
Releases!
~~~~~~~~~~~~~~~~~~~~~
V2.5
http://adf.ly/594734...xelutilitiesv25
Changelog
Added spawning capability do the pixelmon grass thanks to moeboy! You can configure what spawns per biome in the config. You can enable or disable this in the config. Disabled by default.
Pixelmon now drop 1$ pokecoins! You can enable or disable this in the config. Disabled by default.
Added fully working config. You can now change all the item ids!
Added in some achievements!
V2.0
http://adf.ly/594734...xelutilitiesv20
Changelog
Added box(pokefurniture)
Added ClothedTable(pokefurniture)
Added PlacablePokeball(pokefurniture)
Added Yellow And RedCusionedChair(pokefurniture not sitable (yet))
Added trashcan (pokefurniture cant put stuff in it (yet))
Added stream-able Radio
Added Ruby tool set (And a hammer)
Added Saphire tool set(And a hammer)
Added Amethyst tool set(And a hammer)
Added Firestone tool set (And a hammer)
Added Waterstone tool set (And a hammer)
Added Leafstone tool set (And a hammer)
Added Ruby and Sapphire armor (It is team aqua and magma armor)
Added Ruby Ore
Added Saphire Ore
Added Amethyst Ore
Added Silicon Ore(dosnt do anything atm
)
Added Ruby (incase you didnt know >_>)
Added Saphire (Also i am sure you knew)
Added Amethyst (You know this why am i telling you!)
Added Silicon (Yeah still dosnt do anything yet)
Added /pokecheckme
V1.0
http://www.mediafire...tilitysV1.0.zip
Changelog
Initial release
Added pixelmonblocks and pokeconomy
Added a new tree! (Techne model)
Added a bolder! (Techne model)
Organized the entire mod into folders! (Because the way before was horrible!)
Took the new badges from the badge tab and moved it to a new tab.
Screenshots!!!
My plans
~~~~~~~~~~~~~~~~~~~~~
Add in extra items that can be used for server adventure purposes.
Trinkets. We need many of them! MORE MAWR!!
A backpack dare i say
Got a suggestion? Leave it in the comments i love suggestions on my side mods because it can help make it better!
Comments? Also in the comments!
Want a spot in assisting this mod? Send me a pm on the pixelmon forums! I would love more developers and others.
What i am recruiting for
~~~~~~~~~~~~~~~~~~~~~
Spriters
Developers
Modeler (Techne models and objs)
Texturererererererer (If you can model and texture thats even betterererer)
Tester!(get early updates free assuming you find some bugs)
Composer(We love our music)
Current team!
~~~~~~~~~~~~~~~~~~~~~
AnDwHaT5 (Project manager and creator)
Trigore(Head Coder) //Where r u?!?!
Pokenerd (Modeler, tester and graphics designer)
Josecami (Head texturerererer)
Burgy (Graphics dude)
WikiPikiTikiMikiJiki (Texturerer)
Zero_Breaker (Texturererer)
Brenwwe (Coder)
DutchKroket (texturerererer)
Clienthax (Coder)
As a side note. PixelUtilities is aloud to be a sidemod. Pixelmon allows use of the source code to create sidemods to approved people.
Creative Commons License
PixelUtilities
by
AnDwHaT5
is licensed under a
Creative Commons Attribution-NoDerivatives 4.0 International License.