stegnokilla345
Iron Miner
Location:

SwagLand

Join Date:

8/9/2011

Posts:

276

Minecraft:

Stegnokilla

Member Details
Copyright


This mod (plugin, a patch to Minecraft source, henceforth "Mod" or "The Mod") is Copyright ©(2014) of Stegnokilla (hereafter referred to as "The Owner") and is the intellectual property of The Owner. Only Minecraftforum.net is able to host any of The Owner's material without the consent of The Owner. It may not be placed on any other web site or otherwise distributed publicly without advance written permission. (Electronic mail is acceptable as long as you wait for a response.) If you mirror this mod page or anything The Owner has made on any other site, The Owner may seek compensation for the damages through a lawsuit. This mod is provided 'as is' with no warranties, implied or otherwise. The Owner of this mod takes no responsibility for any damages incurred from the use of this mod. This mod alters fundamental parts of the minecraft game, parts of minecraft may not work with this mod installed. All damages caused from the use or misuse of this mod fall on the user. Use of this mod to be installed, manually or automatically, is given to the user without restriction. This mod may only be distributed where uploaded, mirrored, or otherwise linked to by the owner solely. All mirrors of this mod must have advance written permission from the owner. Any attempts to make money off of this mod (selling, selling modified versions, adfly, sharecash, etc.) are strictly forbidden. Mod packs (a collection of various mods) may only contain this mod if the mod pack is for private use or semi-private use. A mod pack containing this mod may not be disributed without The Owner's permission.

D
ONUT CRAFT
The mod title says it all, donuts... The mod adds so far, 3 types of donuts, Plain, Chocolate, and Glaze. Each different type heals a different amount of hunger. The donuts are pretty simple to make and is an alternate food if you cannot find any animals around your house.
Plain Donut = 2 Hunger Icons
Chocolate Donut =
3 Hunger Icons
Glaze Donut = 4 Hunger Icons
Here is how to make your delicious donuts :
First, you must create a few stone ingots by smelting a solid block of regular stone, not cobblestone. You will get 4 stone ingots for one block of stone.
Then you craft a stone donut mould with the ingots.
You now must create batter, but first, you must make some flour with one piece of wheat.
Now you can make the batter and put it in an empty bowl.
Now you pour the batter into the mould.
You then cook the donut by putting the filled donut mould into a furnace. Your result will be a plain donut.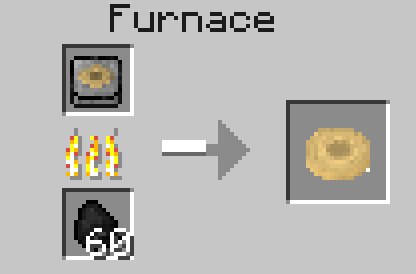 Now you can top the donuts with some glaze or chocolate. It is recommended because it heals more hunger.
For chocolate, you make it like this.
For glaze, you have to melt sugar in the furnace, then make the donut like this.
Downloads
Changelog

ModVersion 1.0 : Mod Released
+ Donut
+ Chocolate Donut
+ Glaze Donut

Installation

1.) Download Minecraft Forge Installer that supports Minecraft 1.6.4
2.) Install Minecraft Forge
3.) Locate %appdata% in your computer
4.) Go into the folder .minecraft then mods
5.) Drag the file [FORGE]DonutCraft1.6.4.zip into the mods folder
6.) Launch Minecraft and select the version profile called Forge
7.) Enjoy!

Thanks to Z3dissa for the video!
Please support the DonutCraft Mod! I do not want this mod to die quickly. If you can make a cool banner or a video, that will be very appreciated. If you can, spread this mod with your friends and the minecraft community.