shadowolf96236
Tree Puncher
Location:

Minnesota

Join Date:

4/3/2011

Posts:

30

Member Details
*
IMPORTANT!! I did some looking into it and it is no longer acceptable to place MMI files here how ever it is okay to post about it and then link to the proper forum page for it.
To learn more download and see the actual thread go to
http://minecraftmmi.forumotion.com/t68-17-keyblades-mmi-v1#300
KeyBlades with Make My Item V. 1.0
Before people get pissed off this took me a long time to do its not something just whipped up quick by MMI used trial and error to make everything fair for game play.
*Important, I am in no way a Coder, or modder, Using Make My Items was an easy way to make something I enjoy and know Others will Enjoy too, If you have a problem with MMI or this Keyblade item add on then I am sorry. However I enjoy being creative and this was fun for me to make.*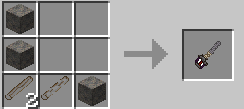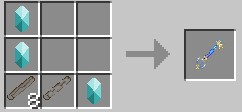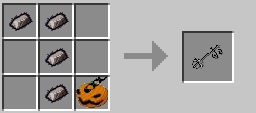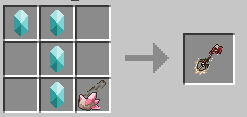 New items,
Keyblade, no new special abilities to it.
Bloodstone Keyblade, left click does 10damage, right click sets a mini explosion
Diamond Keyblade, left click does 8 damage, Right click sets water block.
DarkSteel Keyblade, left click does 8 damage, Right click sets lava block.
Recipe items,
Iron Rods- made by smelting Iron ingots
Iron Chains- Made by stacking 3 iron rods on top of each other
DarkSteel Rods- Made by stacking 3 darksteel rods on top of each other
Darksteel Ingots- Iron rod in the middle with an ink sack on the left and right of it
DarkSteel Pumpkins- pumpkin in the middle with Darksteel rods in a + formation
Pumpkin Keychain- Darksteel Pumpkin + Darksteel chains
BloodStone- Diamond with red stone in a + shape
Bloodstone Keychain- Bloodstone with iron chains.
(look in recipe folder for pictures of the recipes)
Death keyblade takes 1 bloodstone keyblade surrounded by bones gives you 5 wolf summons also very strong but doesn't last long
Ruby Keyblade decent attack, right click replaces the block with bedrock
Sapling Keyblade, weak attack, right click plants a sapling (will not need saplings in inventory) to make it fair balanced out cost to make with amount of uses.
Rose keyblade- weak attack, right click plants a rose into the square.
Heart keyblade, Weak attack, right click heals 3 hearts balanced out with amount of uses to keep it fair.
also adding Ruby, Sapphire, and Emerald for gems.
If you guys like this let me know =) been working hard on everything for the past 20 hours XD