Ryanboy17
Gold Miner
Location:

U.S.

Join Date:

12/29/2010

Posts:

393

Minecraft:

Ryanboy17

Member Details
Hello! A little while ago, I figured out how to change the textures of Classic mode. For example, I changed the texture of an Oak tree to a Birch tree: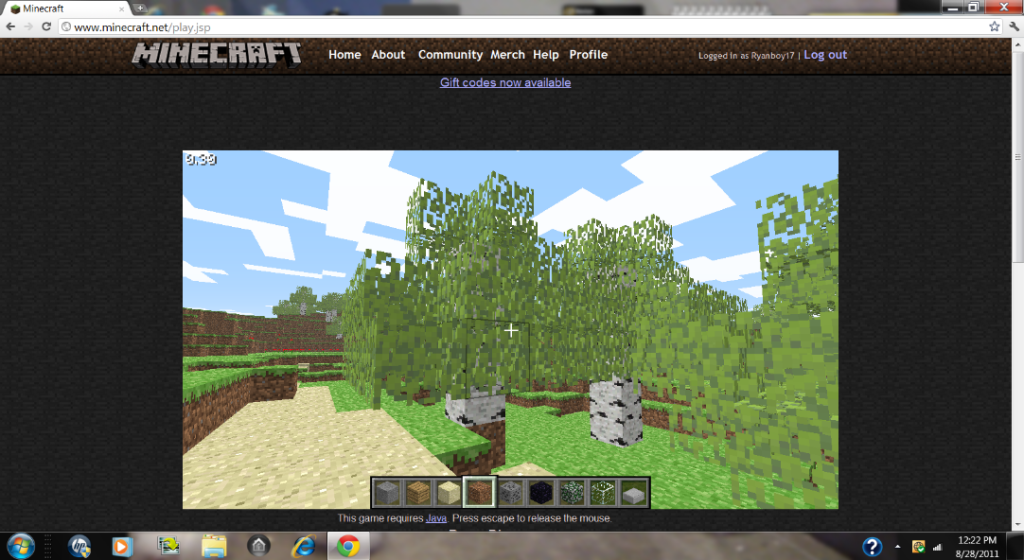 I left the border to show that is actually classic mode. You can actually change a lot more of the textures than that. I updated the cobblestone and brick textures to 1.7 and it looks great!
You CAN change any of the textures of any block you want to whatever you want. That includes:
Swapping texture packs to Classic. For example: You can import the grass, brick, stone, cobblestone, ect. from Painterly Pack to Classic. Enough said, Here is how to do it.
HOW TO DO IT:
Note: You need WinRAR
For Windows:
First, browse to
1. C:\Users\USERNAME\AppData\Local\Temp
2. Then, look for a folder called "
www.minecraft.net
" and open the folder called Minecraft.
Open the minecraft.jar with WinRAR and rename the terrain.png to ORIGINAL.png
3. Copy-paste the now renamed terrain.png to your desktop. With any image editor, preferably Paint.NET, open up ORIGINAL.png on your desktop.
4. For the next step, you can get the terrain.png from the minecraft Beta 1.7, or your chosen texture pack, and open it up as well.
5. After, click - and - drag the textures to Classic modes terrain file.
6. Lastly, rename ORIGINAL.png on your desktop to terrain.png and bring it back into the minecraft.jar
7. Play your newly-edited version of Classic mode! All the textures you wanted to be updated should be.
NOTE: IF You would like to get the original textures back, delete the terrain.png and rename ORIGINAL.png to terrain.png. Have fun!
Ever got that feeling where you want to pin someone to the ground and fart on there face till they die of suffocation? I'm getting that right now.