Pilot_Death_
Stuck at Home
Join Date:

10/3/2010

Posts:

464

Minecraft:

Pilot_Death

Member Details
Emerald Valley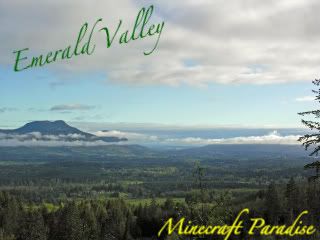 Welcome to Paradise
Emerald Valley - after coming across some inspiring map generations, I wanted to share my findings with the whole community.. so that's the plan. This server features some of the best generations I've seen in my Minecraft days.
The server is hosted by corumanime, who generously offered to do so. His city, Tanelorn, will be built on this server too. Don't fret though - the resort is still here! Because of it's massive distance from spawn, we're able to keep it where it's at.
That's all?
Nope! Over the last two or three days, I've worked hours and hours on creating a small resort to kick things off - complete with a lobby, quick transit system [which will work once the bug is fixed], and two very elegant condos equipped with starters equipment, and a whole lot more.
Whitelist
Due to recent griefing actions, we're adding a whitelist. Want to come play? Post in this format:
[b]IGN[/b]:
[b]When you got Minecraft:[/b]
Current Whitelist:
Pilot_Death
corumanime
Fvpm
KingN
AnimeRules
saltynut1
Bosshog78
Lazureus
Smitty_NJ
draketoto
Nonukun
KentLovesCows
Kemaro
rocksolid124
Luke_Strife
RenderedUnsafe
Space_and_time
thesilentsounds
Juiceh
Dankmaul
Rizzgone
pyrosheep
Cool101
Skar220
Blacklist
This is the section you never want to see your name in. The below players have been banned and blacklisted due to grieving, hacking, or anything else we consider rude, uncalled for, or unwanted.
Current Blacklist:
xxMatthewo
dannyrocker
_______
In-character stuff...
-
Everything from here and below is very tentative right now, as the server goes up.
Again, I'm allowing the players to create a lot of this stuff, which includes the economy. The only thing I'm going to say about it is this:
Diamonds will be the most expensive form of currency. Gold will likely be the main currency..
Skins
I'm working on a bunch of skins that fit with the island paradise theme. So far, there's only one, but I'll be throwing others out here soon.

Titles
COMING SOON!
_____
To connect
Open your Minecraft client, and hit Multiplayer. Type this or copy/paste this into the bar.
tanelorn.jestservers.com:25565
Current Status:

Online!
_____
The server is online! Come build your paradise! Have fun, don't grief!
See you on!