Piginabag
Mathematical Dessert
Join Date:

1/9/2011

Posts:

320

Member Details
Hello there. I'm hosting a hardcore survival server with a unique setup, theme and features. I've tried configuring my own plugins but these sorts of things never end well for me. My planned setup isn't really that complicated as far as plugins go, but I still need some help. I pay for a dedicated server with FTP access for server management.
Server IP, if you want to come take a look: covecraft.game.nfoservers.com:25565
Here some screenshots: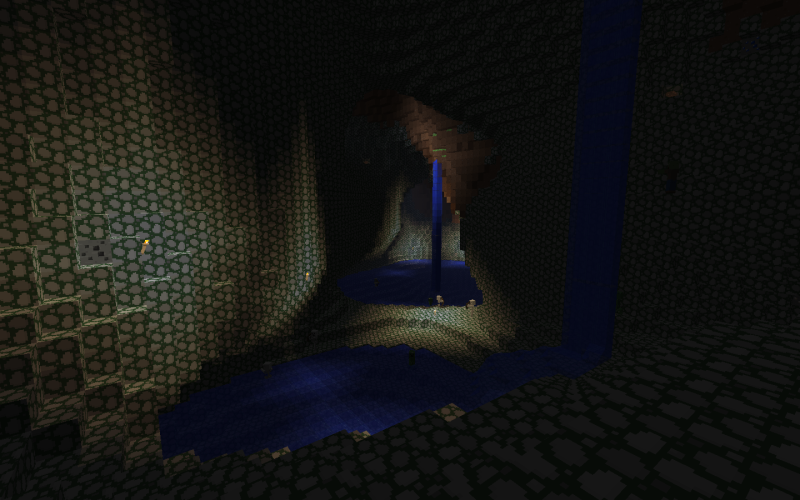 The server map consists of a dense cluster of islands and rivers overgrown with trees. The islands are an assembly of sheer mountains, cliffs and valleys intersected by bodies of water forming inlets, canals, lakes and so on. Despite the variation in terrain, it is all contained in a dense cluster forming what is basically a giant island in the middle of an ocean along with other small bodies of land out at sea. Underground, there is a network of flooded caverns which are beautiful to look at and nothing like normal minecraft. The underground material is mossy cobblestone rather than stone, with pockets of smoothstone just like coal or iron. This makes access to stone less available, essentially adding a tier (wood) to the tool system. People will want to use pumpkins, which add air underwater, to go diving for diamonds, gold, and even lava which are rarely visible on the bottom of the underground lakes.
Half of the donations recieved will go to the plugin guy. If no donations are recieved, I will give 8$ a month - however, I've had successful servers in the past and don't foresee this happening.
Basically I just want my plugins to work.
If you're interested, you can send me an email at
[email protected]
/ contact me on skype @ Piginabag / or reply/send me a pm on this forum.