Cottus_Arci
Carpenter
Join Date:

8/5/2010

Posts:

47

Member Details
Survive & Thrive is an SMP server, where the community aims to create a living, breathing world, with different factions, towns, cultures and histories. We are in essence, a part of an evolving story, and help create it as we go along.
We are a few weeks into the third incarnation, "Survive & Thrive 3.0" - which is a post-halloween update world, complete with biomes.
3.0 is also a move to further encourage S&T as a RP server. Not only does it complement the factions/governments/storyline nature of S&T, but also will better compliment the players we have, and wish to invite to the game.
Story-wise it leads directly from 2.0, and new challenges await existing and new players alike. Here is the introduction to Survive & Thrive 3.0....
The towers... What were they? We didn't know. We knew not to stray past them... We couldn't even begin to guess their true meaning, their true power.

We couldn't imagine the horror they would summon.

We went on with our lives, being guided by some unknown force. Was it the gods? Or something more sinister? To our horror, it was the latter.

As it turned out, our own turmoils were nothing to the tensions happening between the Immortals. The Titans, spawn of the Gods and emissaries to Mankind were no longer content with their lot, and worked to destroy us, and their very creators.

The Scourge was unleashed upon us, guided to our villages and towns by the towers... the beacons we had feared for so long. We bled, helpless to stop the carnage wrought by the Titans, our gods apparently deserting us.

It came as a great surprise, then, when we realised they had not. A flash of light so bright we were blinded, a roll of thunder so loud we were deafened, and when finally it stopped... The soothing sound of trickling water, the soft whites of an unimaginably beautiful city, the warm glow of pure sunlight. Something so otherworldly it could not have been made by mortal hands.

We, the best and brightest mankind had to offer, the first to step forth into Halcyon, the City of the Gods.

We had been saved by those we worshiped, as the ultimate reward for our faith. The land had been restored, the Titans punished for their sins.

We had been gifted with a second chance at life.

Now it was up to us to make sure we made the most of it.
Tribes/Official Structures
The same Tribes exist from 2.0, however new ones have also been created. Each tribe must apply and be approved by the S&T Team, which includes creating your own history and identity. The 1-town Tribes can then "level" up to States and Nations, by increasing their numbers, and in turn, get their own land and an unlimited amount of towns to build within it.
Relic Hunting
There's more to S&T than just building epic towns and structures - treasure and gold await those who persue the RP storyline! We're creating cleverly concealed structures hidden both underground, and others above ground that cannot be viewed by the Cartograph. You'll only be able to find these epic relics by deciphering clues provided in the form of treasure maps, X marks the spot!
Gold Trading System
Since Gold is a otherwise useless item, players can purchase unavailable, uncraftable or rare items like Cloth, Mossy Cobblestone, Brick, Hellblocks and many more, with gold, from the resident Trading Merchant, Kronous.
Hosted by The Basement Effect
After just 24 hours into the original S&T, a super-cool guy by the name of Kronous offered to host this game. Here, we benefit from;
- A high-end server
- Dedicated url for connection (tbemc.com)
- Professional site with forums, maps, wiki
- Hosted VOIP - Ventrillo
Here's some specs of the server;
Location: East Coast USA
Operating System: Windows 7 Ultimate 64-bit
Processor: AMD Phenom(tm) II X4 955 Processor 3.2GHz
Memory: 6144MB RAM
Mods/Plugins
Hey0's Mod - essential mod for SMP hosting
ChestProtect - enables users to lock their chests!
CraftBook - players can build elevators, gates, retractable bridges.
Borderlands - ensures map does not get explored past a 2500 block radius from spawn.
Cuboid - Mods/Admins can protect approved towns and buildings, Admins can also use the full array of cuboid tools for relic building and anti-grief pruposes.
List of Tribes, NPC structures, approved buildings in 3.0
Halcyon
Halcyon is where our story begins in 3.0. It's an Admin-controlled city, which will act as a launchpad for literally jumping into the new world. Be sure to explore the city before you leave, as many clues can be found!
Edit - Halcyon was built pre-Halloween Update, and it was causing the server to crash. It was been removed from the current map.
The Guild
The Guild is run by Kronous (Sysop/S&T Team member) and primarily acts as a trading facility for 3.0, where, as stated above, players can buy items with gold (like cloth and hellblocks).
The HMS Charon, docked at the trading post
View of the loading crane on the Docks
The Acropolis
Gen Zerya
Shortly after 3.0 launched, Gen Zerya merged with the expert mining tribe of Jeeha. Since then, they've built the foundations of an impressive large-scale city.
They are a peaceful tribe, more focused on civilised matters, than the barbaric power-struggles of the other tribes. Gen Zeryans devote their time to creating a harmonious town and community.
View from Town Spire (Town Hall, Warehouse/Forge, Colosseum, Acropolis)
View from Town Spire 2 (Docks, Trading Post, Lagoon Company HQ, Bridge)
Inside Colosseum
Acropolis
Town Spire from Bridge
Kureha
Kurehan people are all devout believers of the state religion, that of worshipping Azusa and the gods of Eos. Where other tribes and nations worship the Gods as a secondary part of their life, Kurehans devote their entire life to upholding the gods will. While their devotion is centered on Azusa, they of course still hold reverence for the other deities, and pray to them all the same.
The capitol of Kureha is Kanata, a place where even other tribesmen come to worship. Outsiders are closely watched by the Inquisitors, Holy Guard of Kureha.
Kureha is an Oligarchy, power given to the Church and the Archons that control it. Ultimate power is in the hands of the High Archons, who defer much regional control to regular Archons. Archons act somewhat as preists to the community, and by extension Mayors and such.
Here is Nozomi Basilica, The Kurehan Tribe's crown jewel
The Mernexi
The Mernexi are supreme builders, and their town Tethys is unmatched in it's charm and use of blocks to imitate machinery and other "non-structure" elements.
No pics as yet - but coming soon!
Tamapas Maxis
Write-up coming soon
Overview of Town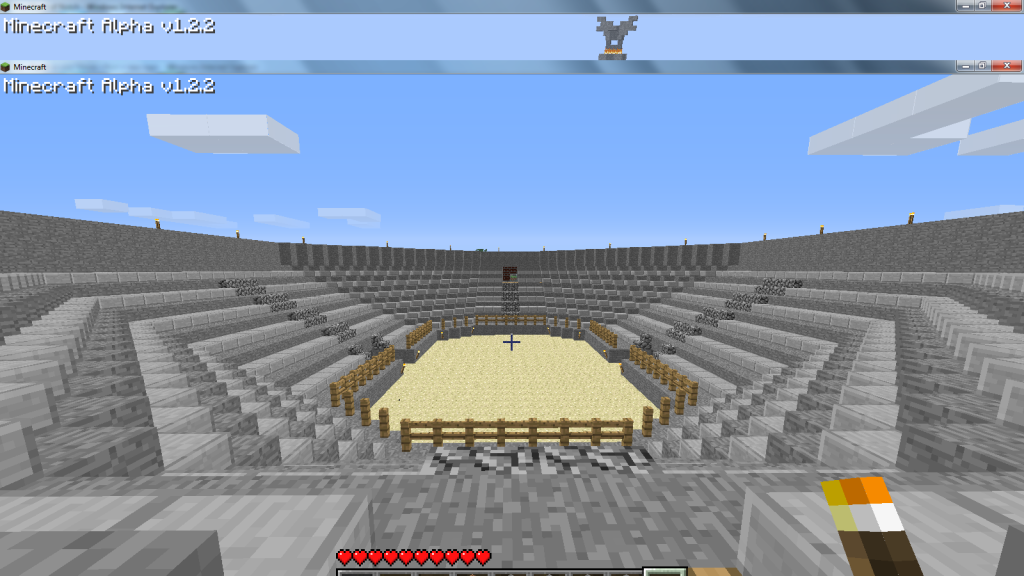 Colosseum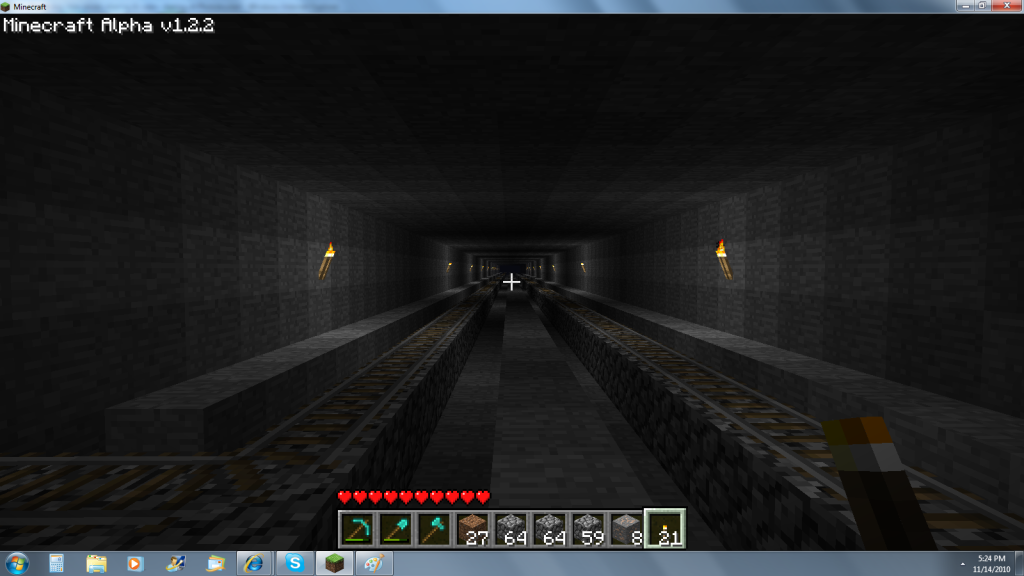 Rail Line to Gen Zerya
How to Join
S&T is whitelisted, so head on over to
http://minecraft.thebasementeffect.com
, join the forums and fill in a Whitelist Application form (under Notices) to get started. Also, be sure to bump this thread to say you are applying!