Kfperin
Tree Puncher
Join Date:

8/16/2010

Posts:

38

Member Details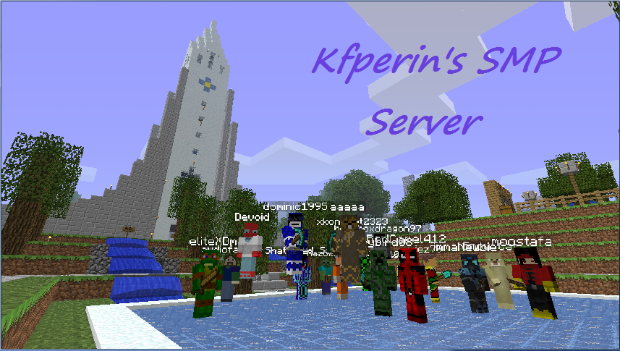 Kfperin's SMP Server
-Topic Last Updated - 11/20/10
Come play at an amazing server. Everyone here is mature, responsible, helpful, and respectful. The staff and players are always helping each other out and building together. The server is focused on building towns together, but players may build outside the towns if they choose to. If your looking for a good server to play on, give us a try and I know you'll want to stay.
The server stands as a symbol, that we may be public and still maintain a great server. We have a great community formed and are very welcome to new members. You won't find much successful public servers out there like ours. Give us a try.
Why Should I Play on this server?
You may ask yourself this question, and behold, we have got an answer! Our server has been operational for months, and during this time, we have been able to figure out what a good server should be like and how it should be run. We have a great community thats full of life, as well as a great OP/Admin staff that are always there to help. If your looking for a place where the staff actually helps and doesn't abuse power, you have found the right place. Unlike other servers, you do not have to pay for this one, or even apply. All you have to do is join the server and pass a 3 minute quiz. We realize that its your choice on what server you want to play on, and will be gratefully happy if you choose ours. We have an awesome community that is very welcoming and great to build with, and the rules listed below help us maintain a great server for all who play on it. Our server is organized, but not to the point where it ruins your fun. Its organized perfectly to demonstrate how successful the server is and how great its run. So please, join the server for 5 minutes and see what you think. I'm sure you'll want to stay.
Server Information
*Server IP -168.144.48.60:25565
*Mods - Major ones are Cuboid, Runecraft, Llamacraft, and a few others that enhance the game experience.
*Map Saves every 15 minutes
*Optional Server Currency for trading
*Natural Server - No Hacks, Cheating, or Duping allowed. Play the way its meant to be played.
*Server internal mail to send messages to offline players
* Leaf Dropper makes chopping wood fun again
* Extra perks for trusted and Longterm players. You'll get awarded for playing here!
* 50 Slots
*Map will be the same for awhile. We have tons of space to expand and to use on the server. Your buildings will not be thrown out.
*Friendly staff and players
*Good for people who want to build with others and communicate
*Organized, Mature, and Responsible players. Very welcoming and respectful.
* Great ANTI-GRIEF/CHEAT Team
*Teamspeak 3 Server = ts37.gameservers.com
Kfperin's SMP Server Rules
1. You may not build within 50 blocks of spawn.
2. Buildings may not surpass a 15 block height limit.
3. No massive or unused buildings. They'll be demolished.
4. Your area cannot be within 5 blocks of someone elses area.
5. Your area cannot be within 3 blocks of a road, if near one.
6. No levitating or unrealistic homes. No 1x1 towers.
7. No exploiting of glitches or cheating.
8. Do not leave levitating trees. No 1x1 mines
9. Be respectful. No spamming, capslock, poor grammar, etc.
10. No stealing at all until PvP comes out
11. Please only speak English on this server.
12. No Excessive Cursing.
**-Rule 4 can be ignored with your neighbor's permission.
**-Talk to an OP to be allowed to ignore a rule, like rule #2 .
**-These rules are for the ENTIRE server. No exceptions.
**-We are here to help! Ask if you have any questions.
Pictures
*First Map Pictures -
http://s81.photobucket.com/albums/j223/ ... r/?start=0
Tour Videos by GamerRoc (Videos of First Map)
--------------------------------------------------------------------------------------------------------------
- Many of the pictures you see are what people built together. Both the Castle and the Arena were built in groups of people. They worked together and pulled their resources together to build it all. We are slowly becoming a Light RP server, nothing serious however.
-Here is a forum thread of a player called Empeororr. He has taken pictures of our server for his skin. I highly recommend you all check it out -
viewtopic.php?f=25&t=27562&hilit=eMPERORR
* For Ban Appeals or Requests, please PM Kfperin via this forum with the name and reason. You ban may be appealed via PM as well.
Come Join Us!
- Kfperin